The miracle called Patty Duke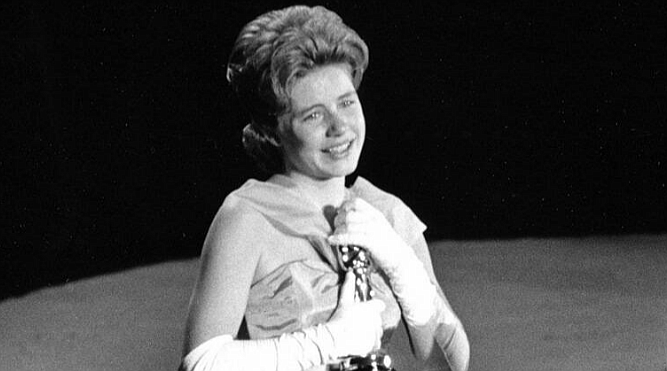 [ad_1]

At 16, Patty Duke became the youngest person to win an Academy of Motion Picture Arts and Sciences Oscar. She played the role of young, blind and deaf Helen Keller, first on a Broadway stage, then in the 1962 film, "The Miracle Worker".
In her book "Call Me Anna" she described in detail the night she won the award for Best Supporting Actress. The ceremony was held at the Santa Monica Civic Auditorium in Santa Monica, California on April 9, 1963, and was hosted by Frank Sinatra.
Her mother was unable to attend due to the demands of an overly controlling manager who insisted her mother stay on the east coast. However, her manager insisted that her dog, Bambi, be present wearing a dress with a mink stole. The dog was transported to the event in a black leather bag shaped like a pyramid. "Only in Hollywood," Patty joked.
Patty said she hated the dress she was wearing and described her hair as making her look like her grandmother. She felt like "little Miss Goody Two-Shoes and just wanted to die." She decided to sit down, shut up and not worry about the outcome.
Her lack of interest in being named a winner ended when the music swelled and George Chakiris started reading the names of the nominees who were Patty's contest – Angela Lansbury (The Manchu Contestant), Mary Badham (To Kill a Mockingbird ) and Thelma Ritter (Birdman of Alcatraz). At that moment, she knew she really wanted the coveted statue.
She wrote that she wasn't sure she actually heard his name because she wished so hard. She found herself still in her seat long enough for John Ross, her manager, who was sitting behind her, to lean forward and whisper, "They're not going to bring it to you, honey, you better go." look for it!
She remembers little of what followed, but she remembers saying "Thank you".
In 1986, she married an Idaho born and raised Mike Pearce. The last 20 years of Patty Duke's life have been spent under the name Anna Pearce, a resident of Coeur d'Alene.
She has been active in many charitable causes. Most notable was his commitment to helping people with mental illness.
She starred in many movies and TV shows until her death. She passed away on March 29, 2016 in Coeur d'Alene, a community she loved deeply for its diversity and talent.
• • •
The Museum of North Idaho (MNI) is grateful to Patty's family for allowing us to display her Oscar in our new exhibit highlighting Hollywood's impact on our region. Mike Pearce knows she would love her Oscar to be used to promote the new NMI.
You can purchase a copy of her book "Call Me Anna", the only source of material for this column at the MNI. If you become a member of the INM, you can benefit from a discount on all books sold in the museum. "The Miracle Worker" can be seen on the Internet in its entirety. The acting is spellbinding!
[ad_2]