'Summer of Soul' is the soundtrack you didn't know you needed | Entertainment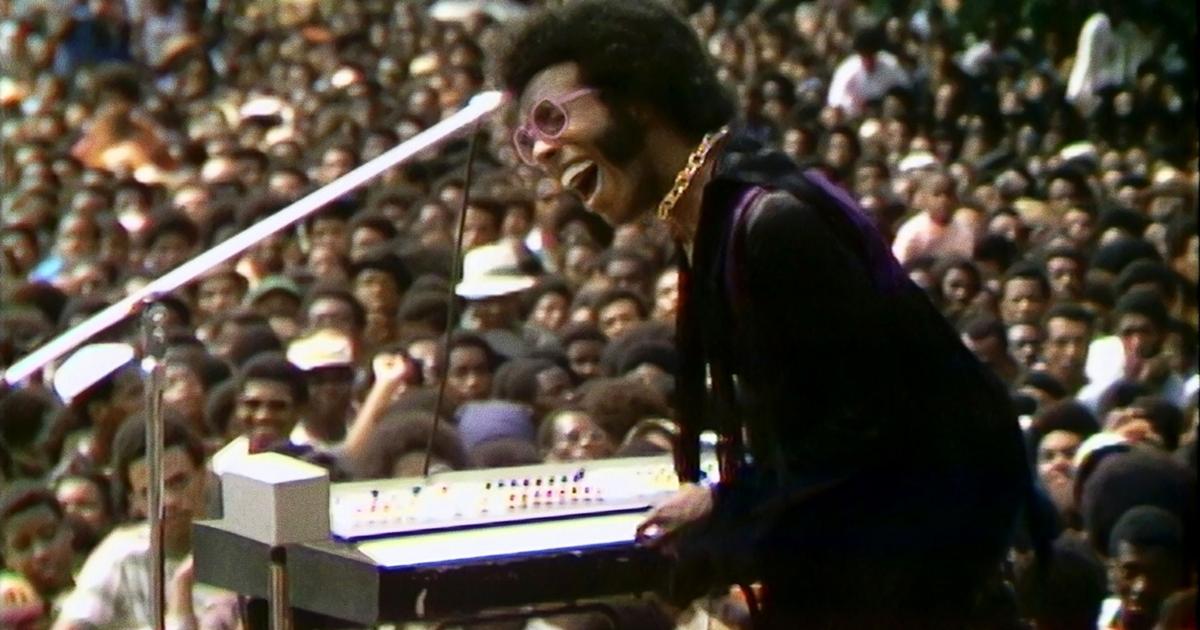 The notes sparkle as BB King, resplendent in a blue sports jacket, runs his fingers over his red Gibson. The Mount Morris Park crowd in Harlem sways, cheers and smiles as he delivers a searing performance of 'Why I Sing the Blues'. The footage is stunning, but what also stands out in Ahmir "Questlove" Thompson's 2021 documentary, "Summer of Soul," is the quality of the recording. It's not a lo-fi bootleg. In fact, the sound of these nearly 50-year-old tapes surprised Thompson, the Roots drummer and bandleader on "The Tonight Show Starring Jimmy Fallon."
"How do the Roots use 104 mics and 104 outputs? said Thompson. "This festival only used 15."
This is just one of the magical mysteries surrounding the Harlem Cultural Festival, whose lineup, over six weekends in the summer of 1969, included King, the Staples Singers, Stevie Wonder, the 5th Dimension and Sly and the Family Stone. Woodstock, which would take place at 100 Miles later that same summer, would become a generation definer with its highest-grossing film and chart-topping soundtrack. But the Harlem Cultural Festival – with arguably superior performances – would be forgotten, the tapes unreleased and buried for decades.
Questlove's film helped reframe the narrative. "Summer of Soul (…Or, When Revolution Couldn't Be Televised)" won top honors at Sundance last year, played in theaters and is now streaming on Hulu. And on January 28, the film's 17-track soundtrack will be released. Thompson and I recently spoke on Zoom about the festival's influence and the surprises he found while working on the tapes.
Q: You talked a lot about black erasure. Last year you said in interviews that maybe in 10 or 25 years we'll see a longer version of "Summer of Soul". Since then, we have seen the 462 minutes of the Beatles in "Get Back". Did that make you reassess how much longer we'll have to wait?
A: Yes, we heard you loud and clear. Do not jump and put the horse before the plow. But we are definitely in serious talks right now on an extended version or a full version. What you witnessed was not even 15% of the magic of the day.
Q: We can also think of the Harlem Cultural Festival compared to Woodstock. There's a 38-CD Woodstock box with virtually every moment recorded.
A: When I talk about black erasure, I think often people go to the most extreme definition of it. Something like a burning book. In this particular case of black erasing, it's kind of like the flippant way it was dismissed and really not taken seriously…with a shrug like, "OK, well, that's is cool, but it's not something to write home." When I was doing that, Prince's autobiography came out. He talked about how seeing Woodstock with his dad at 11 made a difference in his life, and it made me start wondering instantly. I think maybe the first musical thing I saw in a movie theater could have been 'The Wiz' in 1978. But if something of that magnitude was turned into an event in the same way, let's say 'The Wiz'. war of the worlds" or the last episode of "MASH" or a Super Bowl event was, could it have made a difference?
It shows you that it's important for people to see each other too. I'm not saying that the Harlem Cultural Festival version that we put together would have been the same story that another director would have made in 1972, 73 or 74. But I'm sure watching "Precious Lord" or watching Stevie Wonder do his concert could have had some kind of cultural impact that could have made a difference in people's lives. But we will never know.
Q: How was it recorded so well?
A: Your guess is literally as good as mine. Truly. What you are listening to is a rough mix. I seriously doubt that back in the day when they were tuning the soundboard they had the wherewithal to say, "OK, I see a motion picture coming out, so let's make it the best quality there is ." We gave it to (recording engineer) Jimmy Douglass and even with a half-inch coil he can sweeten it up, make it sound good or whatever. Nothing sounded better than their rough mix. I don't understand how they had 15 microphones. You give six to two drum sets, one of which you don't even use – like Stevie's drum was only used once in his entire set, so his drummer has three mics. Its basic guitarist shares a microphone. Stevie's keyboard gets one. Stevie gets a keyboard mic, Stevie gets a stand-up mic, and the remaining mics go to the horn section. It seems so pure that for my life, it only confirms to me that less is more.
Q: Your soundtrack contains only 17 songs. Guess there's some amazing stuff in the vaults that we should hear. How did you decide what to present?
A: Initially, I wanted to break protocol with the film and put more on the disc than what was in the film. But there was such a demand for us to – "How can you release a musical film without a soundtrack? I want to listen to this in the car. Yadda, yadda, yadda. So we decided that if we were to go off the grid and make more songs, it would've taken a long time for those songs to come out. Even to clarify what we have now, it took a lot of kissing babies and shaking hands. So in terms of effectiveness and time we decided to roll with the songs that have already been erased in the movie, and similar to our deluxe version of the movie which will eventually come out with more songs, I'm sure we'll have way more songs to choose which will be cleared in time for people.
Q: Of course, it's hard not to notice that there's no Stevie on the soundtrack.
A: In my mind, we were sort of shooting for Christmas, and it would have taken way too much time spent cleaning up with Mr. Wonder's estate. So hopefully if we do a deluxe version he'll be included, but you know, his inclusion in the film and a lot of artists that we've had contact with, a lot of that is just down to personal relationships that I have. But they are legacy artists now. So it's not like I can casually do a soundtrack and hit Ed Sheeran to do a song real quick.
Q: You can't call Stevie on the phone and just say, "Hey, can we get permission to post this?"
A: In fact, that's how we got Stevie in the movie. Like, I had to call Stevie on the phone. We are dealing with legacy songs. So, you know, for example, there was… speaking of the documentary "Get Back", there was a ton of Beatles covers (played during the Harlem festival). I think between The Beatles covers and The Doors' "Light My Fire" and Eddie Floyd's "Knock on Wood" these were the most covered and established songs. The producers said, "You can forget all the Beatles covers, no way they're erased in time or we don't have enough Beatles budget."
Q: Going back to the idea of ​​black erasure and how history was set, you have this incredible segment about the moon landing in 1969. It takes place during the festival. We are used to seeing the landing celebrated. Instead, you show us how, for some black Americans, the moon landing was viewed differently. You have these incredible footage of CBS and Walter Cronkite with interviews from the festival where people are complaining. They ask, "Why are we spending all this money on space when our neighborhoods, our schools, and our children could use some help?
A: Now here's a piece of advice that I didn't miss much. We wanted to know people's opinion of the moon landing. And we found out that CBS and Walter Cronkite sent a film crew to our festival. When it came time to erase the footage, and this brings me back to the whole importance of making sure the story is corrected… CBS originally denied us use of these footage because they said that our protocol was that if it was released, you are permitted to use it for research purposes. So basically we accidentally sent you this footage. "Sorry, but you can't use it. »
Q: So you're saying that segment never aired on CBS. Because it would have been a bummer back then, when everyone was celebrating the moon landing, for real reality to come into the conversation.
A: Yeah, and getting it took about three or four carefully crafted emails about the importance of telling the story. Now ask yourself what else we don't know that never aired that is just as important. At the last minute I think just to bail us out they finally cleared it up. But it failed, it literally almost didn't work.
Q: Here we go back to who is making history. When it came to getting the footage, did it help that we were in a moment with The New York Times' 1619 Project and the voices reshaping the story who will say, "Oh, CBS, you don't you want to tell that story?
A: As we edit this, it was heavy into the summer of 2020 and identical to the exact conditions that were occurring that brought the Harlem Cultural Festival into existence in the first place. There were political unrest. George Floyd. Breona Taylor. So I think it was necessary to kind of remind these people that, look, we're making a movie about history and that might help. If it had been 2018, 2019, I think we probably would have just gotten, "Listen, the rules are the rules, we can't break the rules for you."
Q: In the movie, I love how you mix Walter Cronkite and new reporting with the sound of the Staple Singers. A chance to have the 12 inches one day?
A: I didn't even think to include it as audio. I do not know. I think we live in a time where you need visual aid with audio. So I'm even shocked. …Because even at the beginning, we were like, "Does this need a soundtrack?" And that's weird for a guy with 200,000 records and even though it's my first movie, I guess you'd think I'd want a soundtrack to go with my movie. But I guess in my mind, I was just like, "Oh, you know, I think people would rather just watch the movie than listen to a soundtrack." Oh, how wrong I was.