Summer Movie Preview: 'Doctor Strange 2', 'Jurassic World 3' hitting theaters soon | Culture & Leisure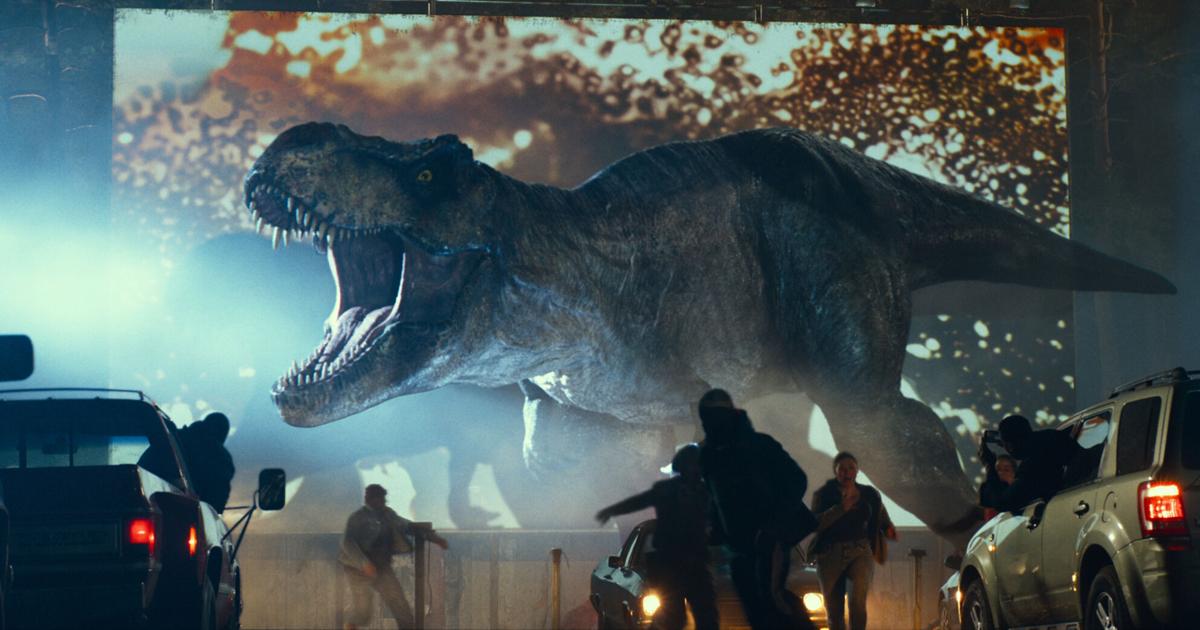 At this point, we should all know to expect the unexpected when it comes to the movie release schedule.
No release date has been set in stone for the past two-plus years thanks to the COVID-19 pandemic totally upending movie studios' best-laid plans. Some movies that were supposed to be released in 2020 have still not hit theaters. That said, it at least looks like the next few months are pretty set in terms of when and where audiences can see Hollywood's latest cinematic offerings. Here are some of the most notable releases that will be released by the end of August:
May 6
"Doctor Strange in the Multiverse of Madness" (movie theaters): The Marvel Cinematic Universe's first big-screen outing of 2022 finds Dr. Stephen Strange entering the Multiverse and facing off against new threats. Directed by Sam Raimi and starring Benedict Cumberbatch, Rachel McAdams, Elizabeth Olsen and Benedict Wong.
May 13
"Fire starter" (Theatres and Peacock): This remake of 1984's "Firestarter" finds a father doing whatever it takes to protect his daughter from a government agency after she suddenly gains the ability to set fire with her mind. Directed by Keith Thomas and starring Zac Efron, Ryan Kiera Armstrong, Gloria Reuben and Kurtwood Smith.
May 20
"Downton Abbey: A New Era" (theaters): 'Downton Abbey' creator Julian Fellowes wrote both the 2019 film 'Downton Abbey' and this sequel. Directed by Simon Curtis and starring Maggie Smith, Hugh Bonneville, Michelle Dockery and Hugh Dancy.
"Men" (theatres): A woman takes a solo vacation in the English countryside that it's pretty safe to assume goes horribly wrong. From writer-director Alex Garland and starring Jessie Buckley and Rory Kinnear.
"Chip 'n' Dale: Rescue Rangers" (Disney+): Chipmunks Chip and Dale are back for a new animated adventure. John Mulaney and Andy Samberg voice the titular duo. The rest of the voice cast includes Will Arnett, JK Simmons, Tress MacNeille and Eric Bana.
May 27
Top Gun: Maverick (theaters): The long-delayed sequel to 1986's "Top Gun" is (hopefully) finally in theaters. Tom Cruise returns as Navy Airman Pete "Maverick" Mitchell, who's been trying not to rise in rank for 30 years so he can continue to indulge his need for speed. Directed by Joseph Kosinski and also starring Miles Teller, Jennifer Connelly and Glen Powell.
"The Bob's Burgers Movie" (movie theaters): This film adaptation of the long-running Fox animated series finds the Belchers trying to save their family's restaurant after a sinkhole threatens its ability to stay in business. The voice cast includes H. Jon Benjamin, Dan Mintz, Kristen Schaal and Eugene Mirman.
June 3
"The Island of Fire" (Hulu): Two friends are heading to the popular vacation destination off the south shore of Long Island for a week-long getaway. Directed by Andrew Ahn and starring Bowen Yang, Joel Kim Booster and Margaret Cho.
June 10
"Jurassic World Dominion" (theatres): Now that dinosaurs live alongside humans, it's time to determine once and for all which species will be the apex predator in the future. Directed by Colin Trevorrow and starring Sam Neill, Laura Dern, Bryce Dallas Howard, Chris Pratt and Jeff Goldblum.
June 16
"Father of the Bride" (HBO Max): A father accepts his daughter's upcoming nuptials in this adaptation of Edward Streeter's 1949 novel. Directed by Gaz Alazraki and starring Andy Garcia, Gloria Estefan, Adria Arjona and Isabela Merced.
June 17
"Really Smooth Cha Cha" (AppleTV+): This film about a bar mitzvah host who forms a bond with a mother and her autistic daughter was written and directed by Cooper Raiff, who also stars Dakota Johnson, Vanessa Burghardt, Leslie Mann and Brad Garrett.
"Light year" (cinemas): Pixar goes meta with this animated film about the non-toy version of Buzz Lightyear and his space travels that take him to infinity and beyond. Chris Evans takes over from Tim Allen as the title character alongside a voice cast that also includes Keke Palmer, Taika Waititi and Uzo Aduba.
"Brian and Charles" (theatres): A lone man who builds a robot for a company soon realizes that his latest invention may force him out of his comfort zone. Directed by Jim Archer and starring David Earl, Chris Hayward and Louise Brealey.
"Good luck to you, Leo Grande" (Hulu): An older widow tries to have a night of passion with a young sex worker. Directed by Sophie Hyde and starring Emma Thompson, Daryl McCormack and Isabella Laughland.
June 24
"Elvis" (theaters): director Baz Luhrmann took on the challenge of chronicling the life and career of legendary singer Elvis Presley. Austin Butler plays the king of rock 'n' roll alongside a cast that also includes Tom Hanks, Kodi Smit-McPhee and Dacre Montgomery.
"The Black Phone" (theatres): A 13-year-old boy tries to escape his captor with the help of his captor's previous victims. Directed by Scott Derrickson and starring Ethan Hawke, Mason Thames and Madeleine McGraw.
1st of July
"Minions: The Rise of Gru" (theaters): This sequel to 2015's "Minions" explores how these silly yellow minions became loyal to Gru and his dream of becoming the world's greatest supervillain. The voice cast includes Steve Carell, Taraji P. Henson, Michelle Yeoh, Lucy Lawless, Dolph Lundgren and Jean-Claude Van Damme.
July 8
"Thor: Love and Thunder" (cinemas): Everyone's favorite Asgardian is back for his fourth big-screen outing. Taika Waititi is back in the director's chair after also helming 2017's 'Thor: Ragnarok'. The film stars Chris Hemsworth, Tessa Thompson, Natalie Portman, Christian Bale and Chris Pratt.
July 15th
"Mrs. Harris Goes to Paris" (theatres): A widowed housekeeper in 1950s London does whatever it takes to get the Dior couture dress she's become obsessed with. Directed by Anthony Fabian and starring Lesley Manville, Isabelle Huppert and Jason Isaacs.
"Rest in Bed" (theatres): A pregnant woman cannot tell if her house is haunted or if what she sees is in her head during her compulsory bed rest. Directed by Lori Evans Taylor and starring Melissa Barrera, Guy Burnet and Kristen Harris.
"Where the Crawdads Sing" (theatres): This adaptation of Delia Owens' 2018 novel finds a woman becoming the prime suspect in the murder of someone she once shared a romantic relationship with. Directed by Olivia Newman and starring Daisy Edgar-Jones, Harris Dickinson, David Strathairn and Garret Dillahunt.
"Paws of Fury: The Legend of Hank" (theaters): This upcoming animated game was loosely inspired by Mel Brooks' 1974 comedy "Blazing Saddles." The voice cast includes Brooks, Samuel L. Jackson, Michelle Yeoh, Michael Cera, Ricky Gervais and Djimon Hounsou.
22nd of July
"Nope" (theatres): Writer-director Jordan Peele's sequel to 2019's "Us" finds the residents of a small California town witnessing a strange occurrence. The film stars Daniel Kaluuya, Keke Palmer and Steven Yeun.
July 28
"House Party" (HBO Max): High school kids attend a crazy party in this remake of the 1990 comedy of the same name. Directed by Calmatic and starring Jacob Latimore, Tosin Cole and DC Young Fly.
July 29
"High-speed train" (theaters): Multiple assassins on the same bullet train realize their respective missions might all be related. Directed by David Leitch and starring Brad Pitt, Sandra Bullock, Aaron Taylor-Johnson, Joey King and Brian Tyree Henry.
"DC League of Super-Pets" (theaters): Superman's dog, Krypto, leads a team of other superpowered animals to save the Justice League after they are captured by Lex Luthor. The voice cast for this animated adventure includes Dwayne "The Rock" Johnson, Kevin Hart, Vanessa Bayer, Natasha Lyonne, Diego Luna and Keanu Reeves.
"Revenge" (theaters): BJ Novak wrote, directed and starred in this horror thriller about a New York radio host who heads south to find answers about the murder of his girlfriend. The cast also includes Issa Rae, Ashton Kutcher, Dove Cameron and Boyd Holbrook.
5 August
"Luck" (AppleTV+): A notoriously unlucky young woman unwittingly falls into the conflict between the forces of good luck and bad luck. The voice cast for this animated adventure includes Eva Noblezada, Simon Pegg, Jane Fonda, Whoopi Goldberg and Flula Borg.
"Easter Sunday" (theaters): Comedian Jo Koy stars as a fictionalized version of himself attending his family's Easter gathering. Directed by Jay Chandrasekhar and also starring Jimmy O. Yang, Tia Carrere and Brandon Wardell.
"Body Body Body" (theaters): Board games between friends hiding in a remote mansion during a hurricane takes a deadly turn. Directed by Halina Reijn and starring Amandla Stenberg, Maria Bakalova, Pete Davidson and Myha'la Herrold.
"Not good" (Hulu): A woman's attempts to gain more social media followers by faking a trip to Paris end up coinciding with a terrifying incident in the real world. Directed by Quinn Shephard and starring Zoey Deutch and Dylan O'Brien.
"Secret Headquarters" (theaters): When a young boy stumbles upon a secret lair under his house, he begins to suspect that his father might be a superhero. Directed by Henry Joost and Ariel Schulman, and starring Walker Scobell, Owen Wilson, Michael Pena and Jesse Williams.
August 26
"The bride" (theatres): A recently married woman is caught up in a gothic plot. Directed by Jessica M. Thompson and starring Nathalie Emmanuel, Thomas Doherty, Sean Pertwee and Hugh Skinner.
"Samaritan" (theatres): A child discovers that a superhero who disappeared 20 years ago may still be around. Directed by Julius Avery and starring Sylvester Stallone, Javon Walton, Martin Starr and Dascha Polanco.