'Prey' producer shares behind-the-scenes stories about popular film | Entertainment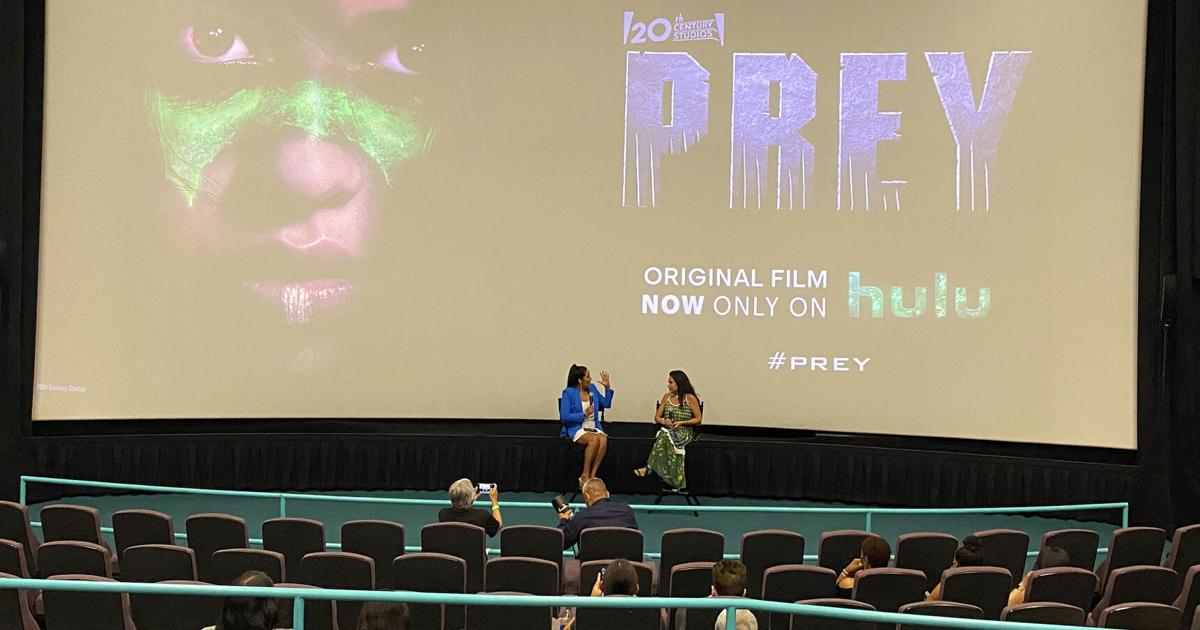 PHOENIX – One of the most popular summer films is the sci-fi movie 'Prey,' which airs on the Hulu network.
The film is set in the early 1700s and is about a skilled Comanche warrior who protects her tribe from an alien predator who has come to Earth on a trophy hunt of animals and people. Amber Midthunder (Fort Peck Sioux) plays main character Comanche Naru who faces the Predator. Naru is not content to only do women's chores and constantly works to prove himself to his brother and the other male warriors in his band. She can hunt and defend herself in a fight, and is more observant than male warriors, which is why she first notices that there is a new creature on Comanche land.
During a question and answer session Aug. 26 at the annual National Native Media Conference in Phoenix where the film screened in a theater, "Prey" producer Jhane Myers (Comanche/Blackfeet), provided some information about the movie and shared some behind the scenes stories.
He was asked how the "Predator" franchise and Indigenous peoples came together for this film, which was filmed in Canada on the lands of the Stoney Nakota First Nation.
"People asked me about it and said, 'why the 'Predator?' I was like, 'why not?' You don't see the Indians in a lot of things so I think the fact that the movie did so well and it's sci-fi and it's the 'Predator' just shows you that there's has a place for us there in everything," Myers said.
As a producer, Myers was able to provide the director with information about Comanche culture and the script, which allowed her to suggest the inclusion of horses as the Comanche people are known to have horses in their culture.
"They were very open and you can see it working. So when you have an Indigenous producer working creatively, those kinds of changes can be made from the top," she said.
She added that the "Prey" script had 100% native content.
"When I usually work on projects, it's 20% or maybe 25% native content, and you read, 'Indian number one says this, Indian number two says this.' So when I got that script, I made sure all of our natives had names," she said. "If you notice in the credits there's French number one, French number three So, yeah, I tried to knock it down.
Myers said it was important for the film to have a female lead character, Naru.
"I think it's really important. For me, this is a statement for today, and I hope it gives people strength because we are still thinking about MMIW (Missing and Murdered Indigenous Women), and we are thinking about other things" , she said.
When she interviewed director Dan Trachtenberg, she said she contributed to the script and shared that she grew up watching the "Predator." She later added that a studio executive called her and told her that Trachtenberg wanted her on the "Prey" project. Much later, as the cast and crew were pressuring the film, the director told an interviewer, "When I was talking to Jhane (during his job interview), I felt like I was talking to an adult version of Nadu".
"I couldn't believe it and thought it was the best compliment I have ever received in my life because for Indian women it is important that we are strong. We are always the the backbone of our families and the strength of our tribes, the strength of our children, and even as leaders.Think of the Wilma Mankillers and all the great aboriginal women leaders.
Myers also talked about another important character in the film, Nadu's dog, Sarii, who helps him fight off the predator.
"The dog, Coco, who plays Sarii, she was amazing. She's a rescue dog. We got her from a pound, and she was trained as we went, so she's not like a show dog," Myers said. "One of the things we (Aboriginal women) do is called a 'lu-lu' (battle cry). So I told the dog trainer at the very end we were going to do this lu-lu. He said, 'okay.' We walked into this lu-lu and this dog headed for the hills. She just ran! She was a little dog on the horizon.
For the film's ending credits, Myers said that Native artists were hired to create "hidden art," which is art depicted on animal skins, as Native artists of the early 1900s 1700 had only skins to use for their artwork or to record major events for their tribes. Myers said she has a background in fine art and is an artist and was able to hire some of her friends who are ledger artists and painters to create the skin art shown during the credits.
"There has never been a final streak like this. People did a little animation, but never anything about skin art," she said. "We had seven performers, and it's like a mini-story in our big story, and there you'll find some Easter eggs (hidden facts about the movie) that will give you more answers to your questions."
An audience member asked Myers if "Prey" could be submitted as a foreign language film for the Oscars.
"He's so weird. We're an indigenous people of this land, but our language is still considered a foreign language. The only thing is because it was going on streaming, it would have to have a limited release in LA and to New York for submission. But thank you for thinking we're Oscar worthy because I think we are," she said.