Nicolas Cage and John Travolta 'Face/Off' at the Somerville Theater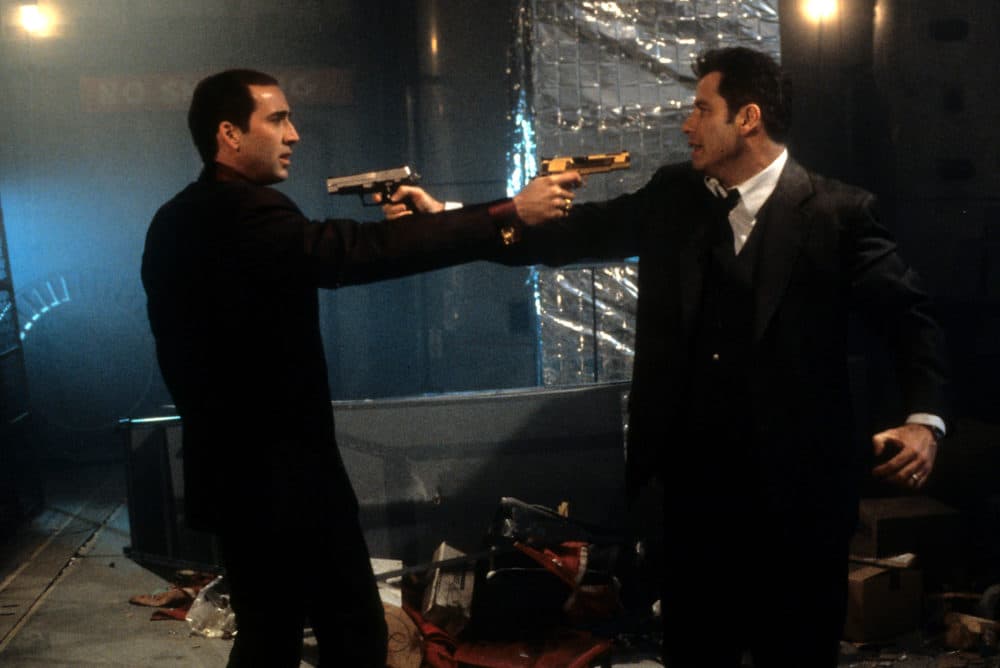 "These are movie stars who only have one name," says Somerville Theatre's creative director, Ian Judge. "Cage. Travolte. So many of their roles are iconic…so many career ups and downs. But we're sticking to the highs right now for "Face/Off: Travolta/Cage", a series of 19 films of 10 weeks of double features currently running in the newly renovated 108-year-old movie palace in Davis Square. Every Tuesday night in March and April, a film starring John Travolta is followed by another starring Nicolas Cage, culminating on May 3 with "Face/Off", the wacky action flick by 1997 from director John Woo in which the actors literally carry each other. faces for the majority of the time, doing perfect impersonations of each other in a madcap, meta-movie hall of mirrors, and balletic shooter. Fun fact: "Face/Off" was the first time I went to see a movie and then saw it again the next day.
According to Judge, the mashup of these mercurial movie stars was a natural way to revive the theater's repertoire film program after a long lockdown and our dark omicron winter. He first told me about his idea last summer when the theater was closed for refurbishment, for a possibly unnecessary number of beers across the street at The Burren. We've discussed at length how Travolta and Cage made more bad movies than most stars of their stature, and the stench of those bombshells can sometimes cloud their indelible contributions to movie history. Indeed, the lineup Judge has put together for this series contains one cultural phenomenon after another. Movies like 'Saturday Night Fever', 'Moonstruck', 'Grease', 'Valley Girl', 'Raising Arizona' and 'Pulp Fiction' have become part of our common pop consciousness – these are films you feel to have seen even if you have not. It is also impossible to imagine other actors playing these roles.
Early last year, I found myself talking to a director who was desperately trying to land Travolta for his next project, a risque drama about a drug dealer who does some really bad things. He said to me: "I want John because the public will follow him anywhere. When he's in the right role, he connects with you like very few others can. It seemed to me to understand the appeal of Travolta in a way that even the actor himself sometimes seems to struggle to understand. Sure John Travolta has always been cool – my generation grew up surrounded by posters and pin-ups of him in the white disco suit, greaser outfit or cowboy shirt and Stetson – but he's also always been accessible, vulnerable and even a kind of goof.
Travolta was a sex symbol, but not in the distant and aloof way to say Richard Gere (who with "Days of Heaven", "American Gigolo", "An Officer and a Gentleman" and "Pretty Woman" made quite a career films that Travolta turned down) but in a clumsier and more endearing way. The tension and excitement lay in the way his crass characters, who so often lacked basic table manners, could suddenly move with such exquisite grace, suggesting the possibility that he could possibly be robbed. We adapt to the misogynistic macho postures of his Tony Manero in "Saturday Night Fever" or the redneck wifebeater in "Urban Cowboy" because Travolta lets us see the frightened little boy behind masculine fragility. A PG-rated version of the same conflict plays out in "Grease," with Danny Zuko learning not to act like the dude all his stupid friends want him to be.
I don't think many movie icons have failed the screen as consistently or magnificently as Travolta, tragically in Brian De Palma's "Blow Out." The actor's first role as an actual adult with a job is a classic De Palma patsy, thinking he's got it all figured out before planting his face in the heartbreaking finale. His blunder is played out to much more amusing effects in "Pulp Fiction," where Travolta's big returning superstar came to play an incredibly charming, drug-addicted hitman who does no good for the entire film. He almost accidentally kills the boss's wife, mistakenly shoots someone in the face, and then gets killed for reading on the toilet while on surveillance. But man, does he know how to dance.
Does an actor fall in love as hard as Nicolas Cage? His eyes seem to liquefy as he gazes at his destiny, his whole body swooning with rapturous abandon. He's an artist who makes big choices, to put it politely. It's this commitment, the sheer sincerity, that I'm afraid has made Cage a figure of mockery for an ironic, self-protective age where everything is reduced to memes. At times it looks like Nicolas Cage came here from outer space – after interviewing him I'd say it's a 50/50 possibility – and yet the massive odds he takes and the wild physicality and complete are always exciting to watch, even in films unworthy of his gifts. Financial troubles and a string of paycheck roles have taken their toll on her popular and critical reputation, but Cage has enjoyed a meteoric rise of late, starring in cult hits like "Mandy" and receiving hearty-deserved accolades. for her heartfelt performance last summer. kidnapped animal drama, "Pig".
It was his penchant for animals in this film that made me think how touching it is to see Nic Cage in love. Whether as the rubber-limbed convict who yearns for mugshot photographer Holly Hunter in the Coen brothers' "Raising Arizona," or the adenoid teenager who wonders what's going on with his time-traveling date Kathleen Turner in "Peggy Sue Got Married" by Francis Ford Coppola. (The nasal, screeching voice Cage gave the character inspired his co-star to ask him if he was aware that the film is a permanent fixture, and also reportedly cost him a plum role in "The Godfather Part III. " from his uncle Francis. ") His amorous mania for nervous bachelor Cher is what skyrockets "Moonstruck," Cage's maddening performance embodying screenwriter John Patrick Shanley's thesis on romance as a terrifyingly disruptive force: "Love doesn't make things beautiful," the character explains passionately. "It ruins everything. It breaks your heart. It makes things a mess.
My favorite personal Cage performance is in his most controversial love story, David Lynch's "Wild at Heart." The rockabilly road movie stars Cage wearing a snakeskin jacket as Sailor Ripley, a rebel on the run with her jailbaited daughter, Lula (Laura Dern), in a frantic tribute, including the kitchen sink , to 1950s juvenile delinquent films, Elvis films and "The Wizard of Oz". It's a surreal, kitsch landscape of graphic violence, raunchy sex, silly comedy and inexplicable Lynchian interludes that had half the audience booed when it won the Palme d'Or at the 1990 Cannes Film Festival. The Somerville will screen the original, X-rated European edit of the film, which had to be cut for American audiences upon its initial release. Hilariously, Judge timed it to follow Travolta's adorable and surprising babysitting comedy from the previous year, "Look Who's Talking," in which the audience is privy to the inner monologue of a well-behaved baby. voiced by Bruce Willis. (The judge jokes that this might not be the best night "to take advantage of Somerville's lax psilocybin laws. Or maybe that's ideal?")
Other dual features fit in more comfortably, whether we're looking at the hillbilly hijinks of "Raising Arizona" paired with "Urban Cowboy" or "Grease" and "Peggy Sue Got Married," both with their 35-year-old high school students. Some other less-heralded gems from the series include John Dahl's slick and seldom-screened 1993 neo-noir "Red Rock West" in which Cage plays him directly against an unhinged Dennis Hopper, and "Get Shorty", 1995's Elmore from Barry Sonnenfeld. Leonard's adaptation pits Travolta's talkative loan shark against top-notch supporting performances from Gene Hackman, Delroy Lindo, Dennis Farina and a pre-"Sopranos" James Gandolfini. The penultimate week featured "Broken Arrow" and "The Rock," the two actors' first forays into the genre of blockbuster action films that would eventually bog down their careers. Certainly, if this timeline continued beyond the 1990s, such triumphs for these two stars would be far fewer and far between. But hey, we'll still have "Face/Off".
---
"Face/Off: Travolta/Cageruns at the Somerville Theater through Tuesday, May 3.