Kidscreen »Archive» Ramsey Naito Promoted in Paramount Reshuffle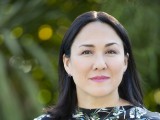 Less than a month after being promoted to CEO, Brian Robbins began a leadership reshuffle at Paramount Pictures, bringing in the head of Nickelodeon Animation Ramsey naito replacing Mireille Soria as animation chairman of the ViacomCBS cinema group. It comes less than a week after Emma Watts stepped down as president of Paramount Pictures.
Paramount has not given a reason for the departure of Soria, who has been directing animation at the film label since 2017. Some of her major accomplishments include directing development and production on The SpongeBob SquarePants movie: the runaway sponge and the execution of a first agreement with the Animal Logic joint venture (happy feet) and Imagine Entertainment.
Naito (pictured) will now be president of animation and development for Paramount Pictures and Nickelodeon Animation.
She has been in place as President of Nickelodeon Animation since her promotion to Executive Vice President of Ongoing Series and Development in September 2020. Under her leadership, the toon division launched its largest roster in Nickelodeon history, Naito bringing over 70 projects to the studio.
This year, she oversaw launches such as Paw Patrol: The Movie; The Loud House Movie; original spin-off from SpongeBob SquarePants Kamp Koral: SpongeBob SquarePants and The Patrick Star show; Santiago of the Seas; and restart Rugrats, which was recently given the green light for a second season.
His new projects include a project focused on children Star Trek: Prodigy series from Nickelodeon Animation and CBS Studios; original content from the newly formed Avatar studios; and a new one Teenage Mutant Ninja Turtles in partnership with Point Gray Pictures by Seth Rogan.
Prior to joining Nickelodeon in 2018, Naito was the head of Paramount Animation, was also a producer at DreamWorks and Blue Sky Studio, and head of films at Cartoon Network.