David C Henley: Soon in the cinema "Top Gun: Maverick"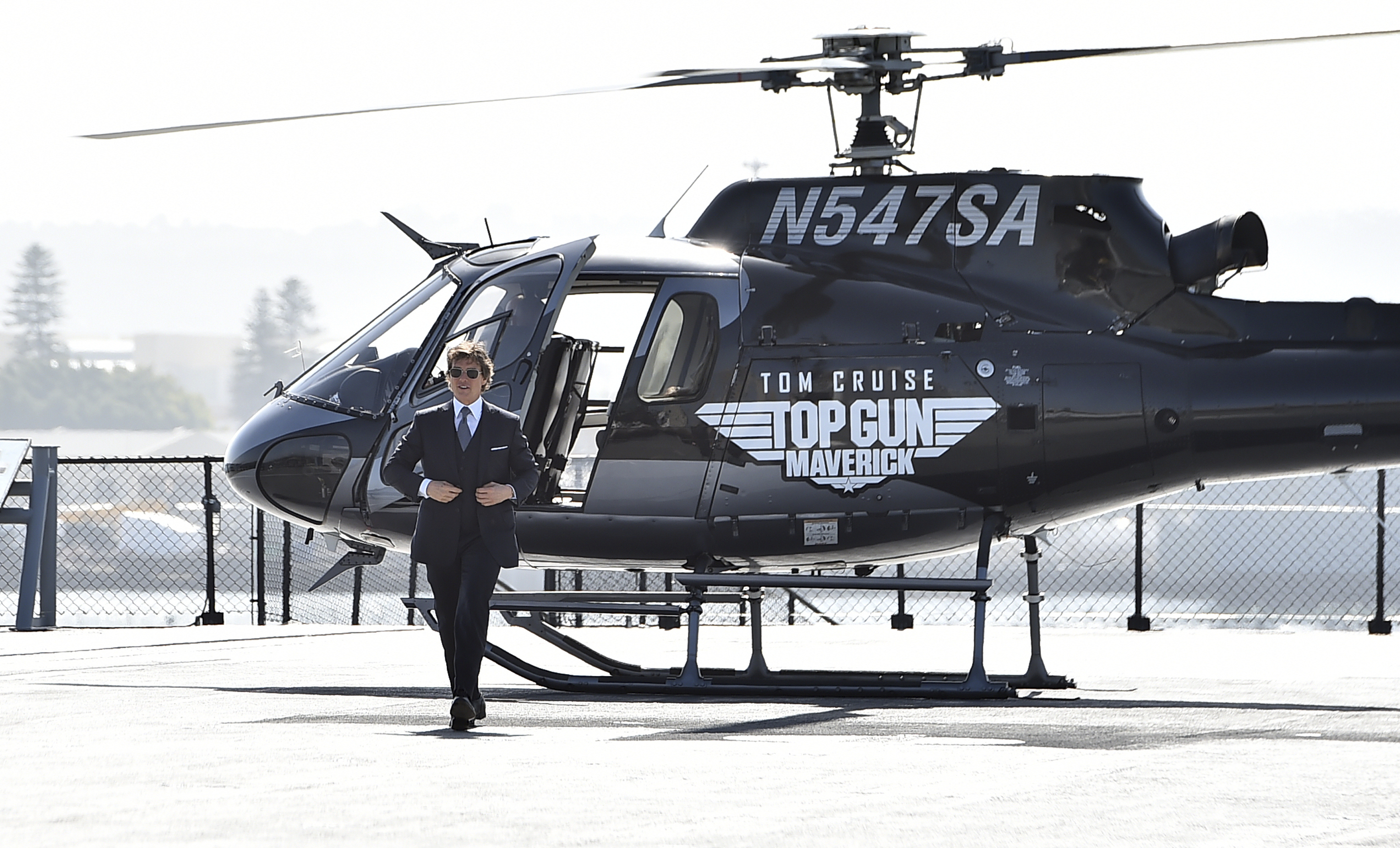 Tom Cruise walks the red carpet after riding a helicopter to the world premiere of 'Top Gun: Maverick' May 4 at the USS Midway in San Diego.
"Maverick", "Iceman", "Viper", "Rooster" and "Goose" return to the big screen in three weeks.
The highly anticipated but long-delayed release of "Top Gun: Maverick," the sequel to the 1986 cinematic blockbuster "Top Gun," hits theaters across the United States starting May 27, the first day of upcoming Memorial Week. -end of day. Like the original "Top Gun", the sequel also stars Tom Cruise and was partially filmed in the skies above Fallon and Churchill County and at Naval Air Station Fallon.
Although plot details are still scarce, the film's producer has hinted that drone technology and the changing culture of fifth-generation Navy fighter pilots will feature prominently in the 2 film. hours and 10 minutes, I learned.
Zip Upham, a spokesperson for NAS Fallon, told Lahontan Valley News that several Hollywood film executives, including Jerry Bruckheimer, who produced the first "Top Gun" and Tony Scott, its director, have visited Fallon twice. in 2012 to scout filming locations for the sequel. and meet Rear Admiral Mark Vance, then Commander of the Navy Strike and Air Warfare Center and his staff, about the use of base planes, runways and hangars for 'Top Gun: Maverick'.
Work on the project was delayed for months, however, following Scott's suicide just three days after the band visited the air station here 10 years ago to plan filming for the sequel.
In the meantime, I learned that a week before the film is released in the United States, it will have its international premiere at the Cannes Film Festival, where Cruise will receive a lifetime achievement award. A special screening of 'Top Gun: Maverick' will take place aboard the USS Midway aircraft carrier, a floating museum ship anchored in San Diego's downtown waterfront district, and plans are being discussed to Fallon to show the film here on Memorial Day weekend and host other events locally that would highlight the presence in western Nevada of military and civilian aviation activity.
Although "Top Gun: Maverick" was originally scheduled to be released in the United States on July 12, 2019, the date was postponed due to the spreading global COVID-19 pandemic, delaying the release by nearly three years. In the original "Top Gun," Tom Cruise played young Navy pilot Lt. Pete Mitchell, whose nickname was "Maverick." In the sequel, Cruise, now a crusty sea captain, is tasked with training a detachment of Top Gun graduates for a special, secret mission that has major international implications. "Top Gun: Maverick," like "Tom Gun," is packed with dramatic dogfight scenes and aerial stunts. Both films were produced by Paramount Pictures. Paramount's cost to make 1986's "Top Gun" was $152 million, its worldwide box office was $356 million, and the film's signature song "Take My Breath Away" won an Oscar that year. next in the "Best Song" category. No figures were given for the production cost of "Top Gun: Maverick", which was filmed at locations including NAS Fallon, NAS North Island in San Diego, Naval Air Weapons Station China Lake, NAS Whidbey Island and at Lake Tahoe. The aircraft carriers USS Abraham Lincoln and USS Theodore Roosevelt were used for filming the sequel. All costs associated with the use of aircraft carriers, other naval vessels and Navy aircraft were borne by Paramount Pictures, and the Navy and Department of Defense approved the film's script before permission to use navy assets is granted.
On May 30, 1996, 10 years after the original "Top Gun" was released, the Navy's Top Gun School, then called the Navy Fighter Weapons School and renamed the Navy Strike and Air Warfare Center, was moved from its long – timebase from Miramar NAS in San Diego to NAS Fallon. The school has since been renamed the Naval Aviation Warfighting Development Center.
Regarding filming in Fallon for "Top Gun: Maverick", I'm told that Tom Cruise spent at least a month in residence at NAS Fallon beginning in early 2019, where he oversaw and starred in a much of the production of the sequel. Around 160 to 180 other professional filmmakers were also present at the base during various times in 2019, and Cruise and his personal staff were housed in base accommodations. Two giant trucks that were assembled to form a private gym for the actor were brought to NAS Fallon for Cruise to help him relax and stay in top physical shape. A luxurious motorhome was also brought to the base to serve as Cruise's mobile "home away from home" when he was on the move. Cruise was personally involved in most of the filming at NAS Fallon, dominating the cast, camera angles and using his own. flying skills and aerial stunts, according to Upham. For those who have seen the original "Top Gun" movie, they will no doubt remember the scene in which two FA-18 "Super Hornet" fighter jets flew past an air traffic control tower, making it buzz and shaking it so violently that the officer in charge of the tower spilled coffee on his uniform as the jets (including one piloted by Cruise) roared. Cruise recreated the tower scene in "Top Gun: Maverick," and it was duplicated in all its glory through the use of a phalanx of jet and external cameras. Although I haven't seen the sequel yet, I did see the movie's trailer which shows "Maverick" Cruise flying completely upside down in one of the movie's final scenes.
As for special events that could take place in Fallon and Churchill County over Memorial Day weekend to celebrate the release of "Top Gun: Maverick," they are still in the planning stages but are expected to include screenings of " Top Gun: Maverick". for local military personnel at Fox Peak theaters and flight demonstrations of STOL aircraft (STOL stands for short takeoff and landing) at local airstrips. STOL planes, many of which are modified Piper Cubs and Cessnas, can land and take off on short dirt roads, grass, snow and ice, according to Bob Simmons, a STOL enthusiast who maintains a small fleet of planes at his ranch north of Reno. and a rural property he owns between Pleasanton and Hayward in the San Francisco Bay Area.
Bob told me that he often joins other STOL pilots in local air competitions. He said: "STOL pilots have landed and taken off in fields less than 12 feet long." He plans to scout the dirt roads off Highway 50 near the Fox Peak theaters where he and other STOL riders can show off their riding skills over Memorial Day weekend. Maybe Tom Cruise could walk past the festivities and join in the fun.
David C. Henley is editor emeritus of the Lahontan Valley News and Fallon Eagle-Standard.