Cinemas can open at 50% of their capacity | News from Gurgaon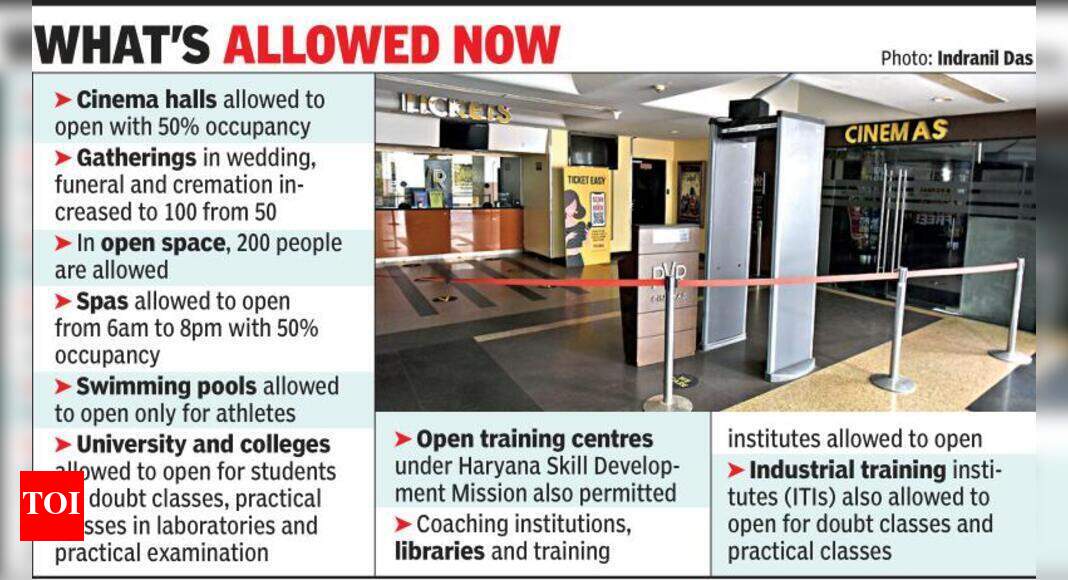 Gurgaon: The Haryana government on Sunday allowed multiplexes and single-screen cinemas to open with 50% occupancy on condition that they comply with all Covid security protocols.
It also increased the ceiling for guests at weddings and funerals to 100 from 50 previously. In addition, the spas were allowed to open from 6 a.m. to 8 p.m. at half their capacity. The pools will also open, but only for those participating in competitions. Among other relaxations, the government allowed National Law University to hold its joint admissions test on July 23 in the state.
Although the government has relaxed many standards, it has extended the lockdown for a week until July 19.
The cinema operators, who have gone out of business since April 30, sighed with relief. They said the decision to open theaters was crucial in keeping the entertainment industry alive.
"It's a welcome decision. We look forward to the resumption of operations at the earliest. We were looking forward to such a decision as we were unable to do any business this year and suffered a loss of around Rs 30-35 crore, "said Sanjay Barjatya, Regional Director of Miraj Cinemas.
He assured that all Covid security protocols would be followed. "Since last year, all Covid standards have been in place in our theater. All of our staff have been vaccinated with at least one dose, "Barjatya said.
Cinemas are banking on big releases, such as Bell Bottom, Radhe Shyam and Gangubai Kathiawadi, to recover from losses. They also asked the government for clarification on the nighttime curfew so that late shows can be allowed.
"We are waiting for the movie times. Without any content, opening cinemas makes no sense. Last year we were playing jukeboxes and old movies and our business was hit hard. Some great films are on the program, but our industry is a national sector. Authorization to open cinemas in a state will not result in film releases, "said a PVR official.
Other eases announced earlier will continue. Colleges will operate for practical courses and exams. Hostels can only open for students taking tests.