Boba Fett's Book Saves Cinema's Most Tragic Monster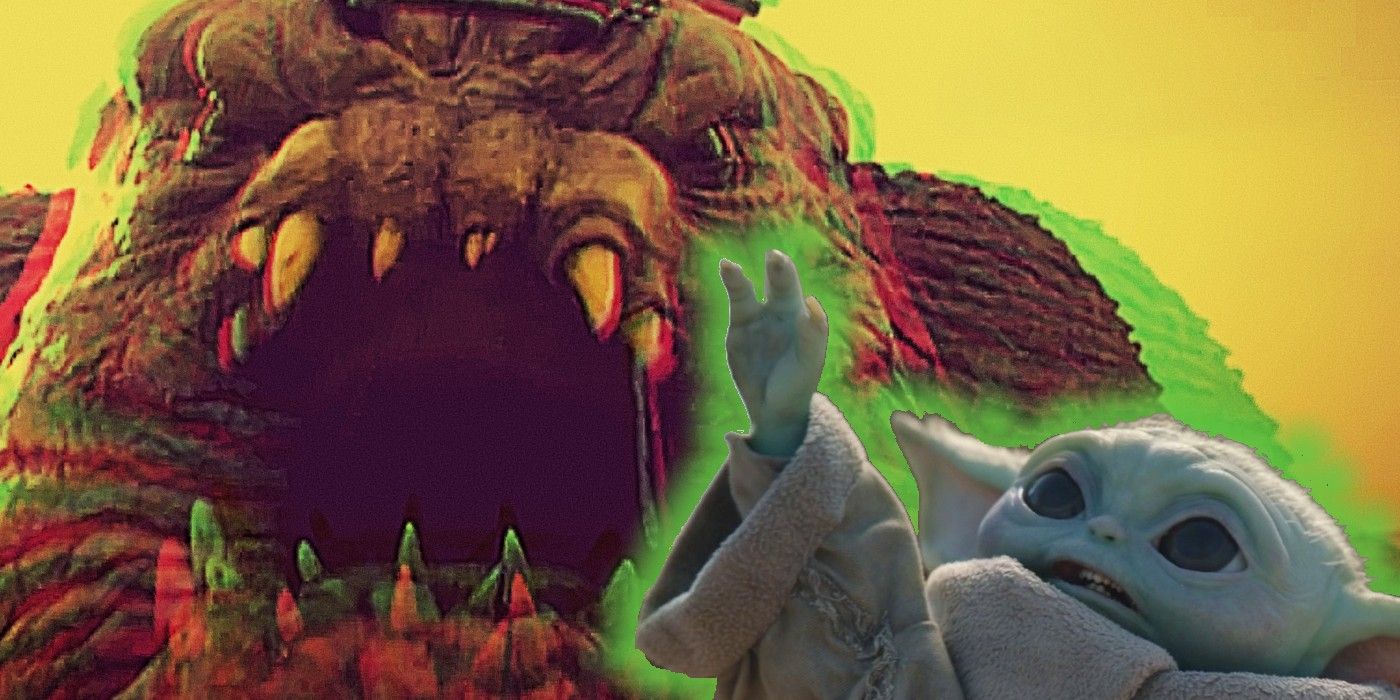 The latest Easter egg from The Book of Boba Fett references a classic movie monster, and this time, Grogu saves the giant beast.
WARNING: The following contains spoilers for Star Wars: The Book of Boba Fett"Chapter 7: In the Name of Honor," streaming now on Disney+.
Boba Fett's Book had many nods to previous movies and TV shows scattered throughout each episode. Not all come from star wars universe; The Season 1 Episode 5 Easter Egg, "The Mandalorian Returns," was a callback to the Superman movies. The series went even further in movie history in Season 1, Episode 7, "In the Name of Honor." Boba Fett's rancor arrived to help defend his empire and created a huge nod to the 1933 monster classic King Kong.
The rancor ran wild, and his actions were clearly designed to emulate the hulking ape whose death ranks among cinema's most tragic endings. star wars aims for happier conclusions, so Boba Fett's Book found a brighter fate for his giant beast than the movie he was tipping his cap to.
RELATED: The Boba Fett Book: Every Star Wars Callback & Easter Egg in Episode 7
King Kong was groundbreaking for its time, not only for its groundbreaking visual effects, but also for the way it humanized its core appeal. Kong found himself in a world he didn't understand, brought there by human greed and reacting like any animal would if caged. This and his infatuation with Fay Wray's Ann Darrow – which was portrayed as innocent and pure emotion – made audiences sympathetic to his plight during his final rampage in New York.
Kong had been portrayed as the antagonist up until that point, but seeing him chained and exposed in front of an awestruck crowd swung the film very quickly. His dive from the Empire State Building was a testament to humanity's cruelty rather than his own and left some viewers in tears. Something similar but more subtle happened with the first resentment of Star Wars: Episode VI – Return of the Jedi with the original resentment.
Jabba the Hutt kept the creature in an enclosure below his throne room, periodically dropping those it disliked for food. This included Luke Skywalker, seemingly in grave danger before he managed to knock the creature's enclosure door down on his head. As elated as the audience was for Luke, there was also sadness at the grudge's death. He struggled weakly once or twice before his horrified caretaker rushed over to collapse into tears. In his review of the filmcritic Roger Ebert cited the moment as one of the things that made star wars great, writing "Everyone loves someone."
RELATED: Boba Fett's Book Gives New Perspective on Mandalorian History
Boba Fett's Book intended to deliver a happier ending to the next rancor, which he described much kinder than Return of the Jedi. The rancor was delivered to Fett as a peace offering from the departing Hutt twins. Fett quickly bonded with it and declared his intention to use it as a mount, which he eventually did during "In the Name of Honor". But when Cad Bane managed to separate him from the creature, rancor ran wild – destroying Mos Espa and enduring fire from Fett's allies as they tried in vain to stop him. He then scaled a tower before falling through the streets, in a direct emulation of King Kong.
This time, however, the story ended well. Grogu arrived after refusing Yoda's lightsaber to calm the beast with his Force powers, bringing it to a peaceful sleep and before snuggling up next to it. The moment was actively adorable — but also a sharp contrast to the fates of the previous two movie monsters that informed it. A happier ending adapted Boba Fett's Bookthe message to leave the past behind for better things; no one was to cry this time, unless they were tears of joy.
All seven episodes of The Book of Boba Fett are now streaming on Disney+.
KEEP READING: The Boba Fett Book Guide: News, Easter Eggs, Reviews, Theories & Rumors
Peacemaker Isn't A Skrull Invasion Remix – It's A Better Thanos Story
About the Author