African cinema could create 20 million jobs, but its potential remains untapped: UNESCO-Entertainment News, Firstpost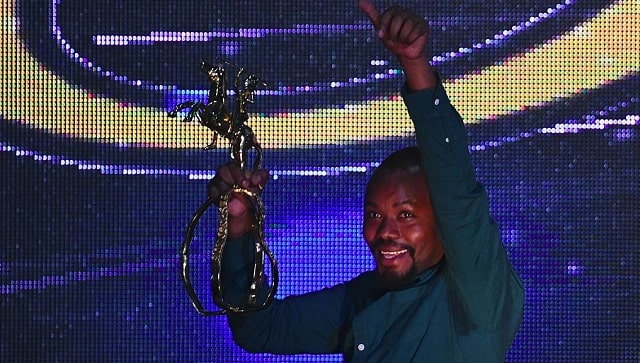 UNESCO said about five million people are currently working in #Africa's film industry, which contributes $ 5 billion to the continent's GDP.
Rwandan director Joel Karekezi holds up the Yennega Stallion trophy as he celebrates after winning the 26th Pan African Film and Television Festival in Ouagadougou | Image via africanews ISSOUF SANOGO / AFP
Africa's film industry is thriving and could create several million more jobs if its potential is fully exploited, the United Nations said on Tuesday.
In a report, the United Nations cultural organization, UNESCO, said around five million people are currently working in the African film industry, contributing $ 5 billion to the continent's GDP.
Nigeria's film industry is the largest on the continent, producing 2,500 films per year.
Despite the numbers, UNESCO said the industry has a lot of potential that remains largely untapped.
Affordable digital film equipment and new online distribution platforms have opened up new opportunities for content creators, but the report says Africa has fewer screens per capita than any other continent.
Read the report here
In #Africa, the cinema sector is booming. Yet across the continent, the economic potential of the industry remains untapped.

Watch 🔴LIVE Launch of our latest report on African cinema, alongside filmmakers and others: https://t.co/ujYxz5pMci #Share Culture pic.twitter.com/CD9BkY0HVT

– UNESCO 🏛️ # Education #Sciences #Culture 🇺🇳😷 (@UNESCO) October 5, 2021
Piracy is another big problem, with the report estimating "that piracy accounts for 50 to over 75% of the revenues of the film and audiovisual industries".
Only 19 out of 54 African countries offer financial support to filmmakers, according to the report.
If all of these challenges are fully addressed, the sector could create more than 20 million jobs and contribute $ 20 billion to the continent's combined GDP, UNESCO said.
The report also identified a lack of freedom of expression as hampering the progress of the film industry, with professionals from 47 countries reporting limitations on the issues they are able to handle in their creative work.
In a statement, the Director-General of UNESCO, Audrey Azoulay, called for a strengthening of international cooperation "to enable all countries, in particular developing countries, to develop viable and competitive cultural and creative industries. both nationally and internationally ".
Films are public goods "which require public support and investment," Azoulay said.
(With contributions from Agence France-Presse)