A Major Plot Point May Be Unnecessary In Season 2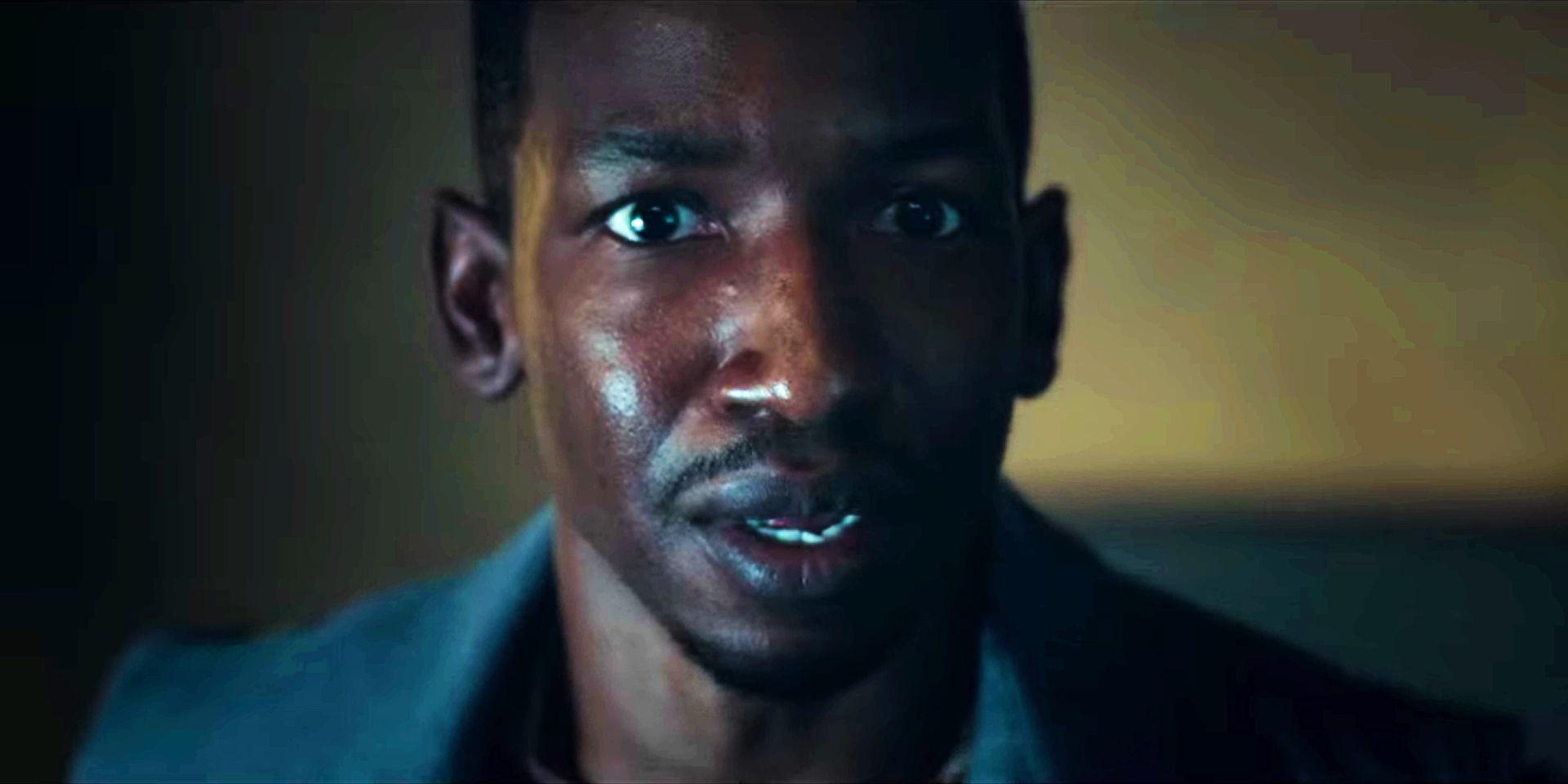 In Archive 81's sixth episode, The Circle, Dan has to break screens to save himself, which may have implications for season two.
WARNING: The following contains major spoilers for the first season of Archive 81, streaming now on Netflix.
Dan Turner restores old videotapes, motion picture reels and photographs to their former glory through a meticulous process based on painstaking precision and patient passion, sometimes to the detriment of those close to him. He is the archivist of Archives 81 who is enlisted by a mysterious patron, a man named Virgil Davenport, to restore a treasure trove of fire-damaged videotapes that may hold the answers to a decades-old question. In the days leading up to a tragic fire at the Visser building in New York, a young doctoral student named Melody Pendras interviewed residents of the building in search of answers to her own questions.
Unbeknownst to Melody, her recordings were accumulating vast amounts of inter-dimensional energy that eroded the boundaries between her dimension and that of a sinister otherworldly being named Kaelego. This demon had been worshiped throughout human history and an elaborate set of rituals were involved in its summoning, but as a potential season two looms in the distance, the intricate rites implemented upon its release may now be obsolete. .
RELATED: Archive 81: Matt McGorry Digs Into Netflix Series' Thrilling Plot
Archives 81 takes place over three distinct periods. In 1924, Kaelego cultists known as the Vos Society open an unstable portal leading to the destruction of Vos Manor and the disappearance of everyone present. 70 years later, the Visser building, located on the ruins of the old mansion, is inhabited by a new generation of cultists seeking the same goal and suffering the same grim fate. Melody Pendras is among those whose bodies were not recovered from hell but her images survived. Around 2019, Dan is hired by Virgil to restore Melody's tapes and unwittingly destroys the barriers between Kaelego's dimension and his own.
Each of the time periods reflects advancements in technology and an appreciation of how these advancements can facilitate the opening of a portal to the demonic dimension. Iris Vos, the cultist matriarch of 1924, along with her brothers Lukas and Jonah took hundreds of photographs in an effort to capture spectral energies that remain invisible to the naked eye. In their etchings, hazy impressions of Kaelego's face are perceptible, manifesting his presence through space and time. Iris remarks wistfully while developing a batch of photos about the energy they could collect if they had a motion picture camera.
In 1994, when a more sophisticated camera than Iris could have imagined is in play, the results are indeed everything she could have hoped for in her dark dreams. No longer confined to visual aid, Kaelego projects his form through the haze of static, white noise, growling incoherently evoking an alien threat. Melody took on the figure she glimpsed and the distinctive audio patterns were a product of her loneliness and suspicious surroundings. Unlike Clan Vos, she didn't fuel her chronicle with any malevolent intent and yet the Demon God existed just on the other side of the screen, searching for a weakness he could use to break the veil between dimensions.
RELATED: How Netflix's Archive 81 Differs From The Podcast
In the third timeline, set near the present day, Dan uses a suite of high-tech equipment to heal Melody's footage of the scars left by time, fire, and smoke. It has multiple monitors that transfer images and sound from one format to another as it creates physical and digital copies. Distinctive black mold spores begin to collect in the crevices of his hardware, another tangible conduit of Kaelego's growing influence in the real world fertilized by the work Dan undertakes. The connection becomes so transitive that the demon not only appears in vivid high definition on Dan's screen, but is able to smash the screen with blunt force before it ends up pulling itself through the various monitors and into the dimension of Dan.
These developments represent a shift from sorcery to technomancy, where the arcane has been replaced by the eruginous. Virgil transformed the profane space that served as Kaelego's summoning circle into a set of panels that beamed the footage from the archives on an eternal loop, a cathedral of synthesized harmonics, all fueled by cloned blood samples meant to replace the elements of human sacrifice that had once been indispensable to the process. Synthetic meteorites now served as substitutes for comet Kharon. The composition of the celestial body was once an integral part of the transport rites between the two dimensions and appeared only once every 70 years, but science has manufactured the means to access the portal whenever a sufficient amount of material could be collected in one place.
RELATED: Bigbug Trailer Introduces Netflix's Relentlessly Exciting Sci-Fi Horror Film
As the cast and crew prepare to take on the challenges of an as-yet-unannounced second season, there could be greater consolidation between science and the mystical arts. Dan's father, who was a professor at NYU, wrote several articles supporting theories about how this might be possible. He explored transdimensional bridges via vibrational manipulations, paranormal perception in non-schizophrenic adults, and the heightened states of consciousness that can be achieved by people with bipolar disorder. This may reveal a key plot point in the second season as Jess, a young girl born in the Visser building, had been groomed by Samuel, the leader of the Visser cultists, since birth to become Kaelego's vessel. Samuel's disappearance is just one of many questions left unanswered at the end of the season, but his development of an environment ripe for demon influence could be vital in establishing non-magical harmonics with the other. dimension.
Jess may resonate in this area due to her flooding in these energies. She was sprinkled with spicy black mold dyes and often passed from one world to another unwittingly. Given what Dan now knows about how many of these magical processes can be replicated in other ways, Jess could serve as an anchor or conduit to build some of these theorized bridges in Doctor Turner's work. Virgil once described to Dan that photographs capture a moment in a way that was unintentional and perhaps unnatural. To freeze something that was never meant to be still and therefore contain something that was never meant to be caged. Dan can take on the role of technomancer as he tries to thwart Kaelego and his herd, but that would also mean that the separation between his world and the other could be thinner than anyone ever imagined, presenting the demon with all sorts of undiscovered ways to claim the world for its own.
To see VHS Sacrificial Rituals, all episodes of Archive 81 are streaming on Netflix.
KEEP READING: Netflix's Texas Chainsaw Massacre: Who's the Last Returning Girl?
Peacemaker: disturb the peace #1
About the Author